Secret super team behind Anna's slammin victory
Article about Daniel Zangger Borch's collaboration with Anna Bergendahl for the Eurovision Song Contest 2010
Text Martin Ekelund, Published on www.aftonbladet.se, 2010-02-28
Sweden's new schlager darling
Daniel Zangger Borch, PhD in popular song (Ph.D. in musical performance)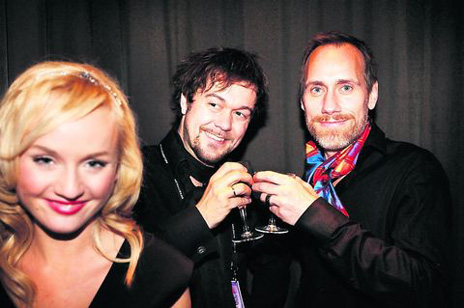 Anna Bergendahl has been assisted by Mattias Carlsson, who directed Rybak's victory show in Eurovision last year, and Daniel Zangger Borch, Carola's former vocal coach. Photo: PETER WIXTRÖM
[2010-02-28]
Secret super team behind Anna's slammin victory
MALMÖ. Anna Bergendahl surprised everyone and became this week's slam. But behind the success lies a secret super team. – They have meant a lot for this performance, says Anna
With a pair of pink Converse, a guitar and a ballad about being herself  Anna Bergendahl, 18, succeeded to convince the Swedish people to send her directly to the final in the Globe arena.
But what the viewers perceived to be a nice peformance by a rookie artist is, was in fact carefully directed by the record company Lionheart.
"Stood completely still"
Behind the success lies a team of Carola's former vocal coach, Daniel Zangger Borch, director of Alexander Rybaks victory show – Mattias Carlsson – and one of the Eurovision's most accomplished songwriters, Bobby Ljunggren.
– I think they have meant a lot for my performance. They have managed to pick up what I have deep inside me, says Anna.
Mattias Carlsson is in addition to Alexander Rybaks director also Norway's Christer Björkman. In four months he worked to refine Anna Bergendahl's number.
– He has had a huge impact on my development here during the week. In the first rehearsal, I stood perfectly still, hardly daring to move but he came up with something very unusual, she says.
And Mattias Carlsson is lyrical over Anna's performance in Malmo.
– She is one of the most amazing people I've worked with. She is very unique. I think Sweden has a new baby, he says.
Daniel Zangger Borch, Doctor of popular song, has previously helped both Carola and Arash and Aysel, who finished third in last year's Eurovision Final, with voice coaching. Now, he has worked with Anna Bergendahl for almost six years.
– Voice-wise, she has the best of Sarah Dawn Finer and Carola, he says.
Remembers nothing
In addition, Bobby Ljunggren, who has written the winning entries "Eternity" and "Hero", is behind the song.
But despite the massive backing Anna Bergendahl could not believe her ears when she heard that it was her song that got the most votes and went straight to the final. It took several seconds before she realized it was her who Måns Zelmerlöw was talking about. And then everything is black.
– People say that I was dancing but I do not know what I did.
At the after party, she could finally relax and dance with her friends.
– It was a very tough week with a lot of hard work, pressure and nervousness. I have put huge pressure on myself because I wanted to do this so well.
Martin Ekelund
Published on www.aftonbladet.se, 2010-02-28
https://zangger.se/wp-content/uploads/2015/04/media-3-300x125.jpg
125
300
zangger
https://zangger.se/wp-content/uploads/2015/01/zangger_logo_devis_neg_340x156.png
zangger
2015-04-21 21:31:40
2015-04-21 21:31:40
Secret super team behind Anna's slammin victory